After the whole Heartbleed fiasco, I've decided to continue my march towards improving my online security. I'd already begun the process of using LastPass to store my passwords and generate random passwords for each site, but I hadn't completed the process, with some sites still using the same passwords, and some having less than ideal strength passwords, so I spent some time today improving my password position. Here's some of the bad examples of password policy I've discovered today.
First up we have Live.com. A maximum of 16 characters from the Microsoft auth service. Seems to accept any character though.

This excellent example is from creditexpert.co.uk, one of the credit agencies here in the UK. They not only restrict to 20 characters, they restrict you to @, ., _ or |. So much for teaching people how to protect themselves online.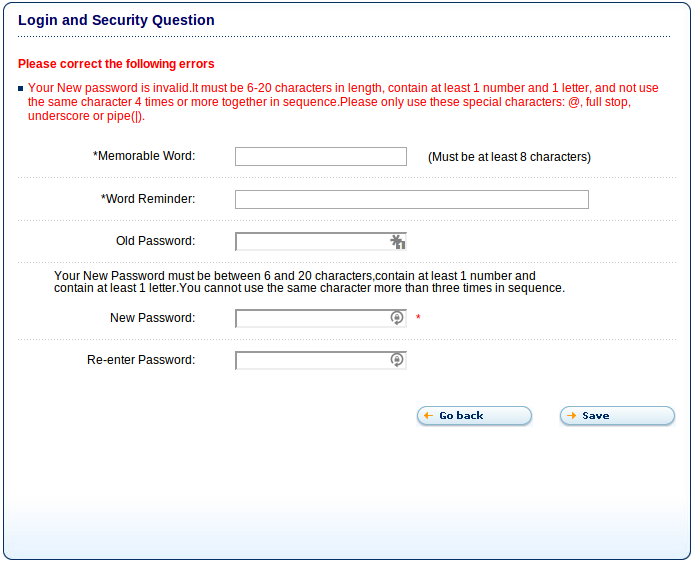 Here's Tesco.com after attempting to change my password to "QvHn#9#kDD%cdPAQ4&b&ACb4x%48#b". If you can figure out how this violates their rules, I'd love to know. And before you ask, I tried without numbers and that still failed so it can't be the "three and only three" thing. The only other idea might be that they meant "'i.e." rather than "e.g.", but I didn't test that.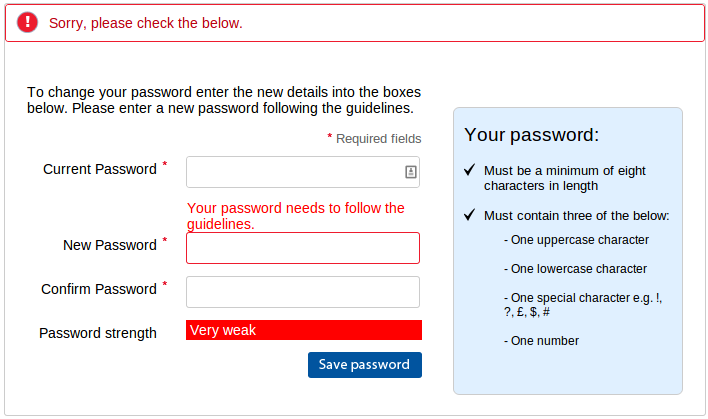 Edit: Here is a response from Tesco on Twitter: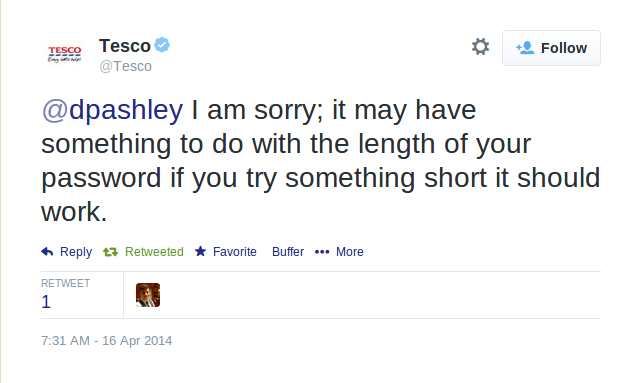 Here's a poor choice from ft.com, refusing to accept non-alphanumeric characters. On the plus side they did allow the full 30 characters in the password.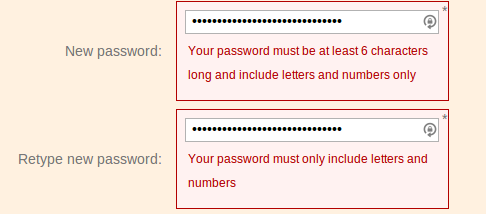 The finest example of a poor security policy is a company who will remain nameless due to their utter lack of security. Not only did they not use HTTPS, they accepted a 30 character password and silently truncated it to 20 characters. The reason I know this is because when I logged out and tried to log in again and then used the "forgot my password" option, they emailed me the password in plain text.
I have also been setting up two-factor authentication where possible. Most sites use the Google Authenticator application on your mobile to give you a 6 digit code to type in in addition to your password. I highly recommend you set it up too. There's a useful list of sites that implement 2FA and links to their documentation at http://twofactorauth.org/.
I realise that my choice LastPass requires me to trust them, but I think the advantages outweigh the disadvantages of having many sites using the same passwords and/or low strength passwords. I know various people cleverer than me have looked into their system and failed to find any obvious flaws.
Remember people, when you implement a password, allow the following things:
Any length of password. You don't have to worry about length in your database, because when you hash the password, it will be a fixed length. You are hashing your passwords aren't you?
Any character. The more possible characters that can be in your passwords, the harder it will be to brute force, as you are increasing the number of permutations a hacker needs to try.
If you are going to place restrictions, please make sure the documentation matches the implementation, provide a client-side implementation to match and provide quick feedback to the user, and make sure you explicitly say what is wrong with the password, rather than referring back to the incorrect documentation.
There are also many JS password strength meters available to show how secure the inputted passwords are. They are possibly a better way of providing feedback about security than having arbitrary policies that actually harm your security. As someone said to me on twitter, it's not like "password is too strong" was ever a bad thing.